Charlotte's Web
Affiliate Program
If you haven't heard of Charlotte's Web, get ready to be floored. This conscious brand has one of the best reps in the biz, changing thousands of lives with their revolutionary low-THC, high-CBD hemp extract. It all started with a little girl named Charlotte.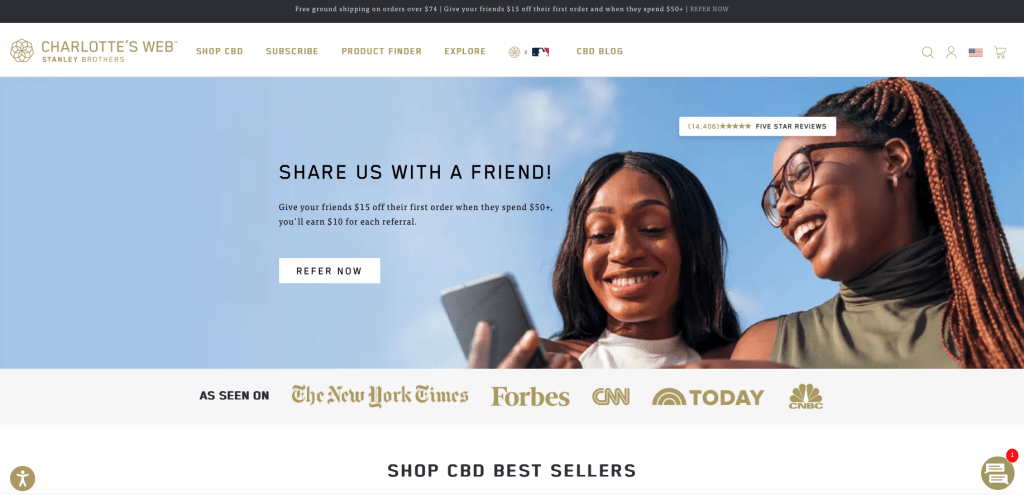 Charlotte's Web
Affiliate Program Offer

The Stanley Brothers of Colorado have long been expert cannabis purveyors, but the Charlotte's Web brand didn't come to fruition until a very special little girl came along.
Charlotte suffered from a debilitating and painful condition, at one point unable to talk, eat, or walk with 300 grand mal seizures every week. Her desperate parents tried everything, including special diets and powerful anti-seizure medication, but everything seemed to make Charlotte decline even more.
Everything changed when the family met the Stanley brothers who had developed a revolutionary strain of cannabis with radically low THC and high concentrations of CBD, CBG, and other medicinal cannabinoids. This CBD oil immediately improved Charlotte's life dramatically, and she can now enjoy the simple pleasures of being a kid. Equally as moved by her improvement, the Stanley Brothers decided to call their genetic strain Charlotte's Web after the girl that changed their lives forever.
Word spread like wildfire as thousands of parents and patients across the country sought out Charlotte's Web to use CBD oil for chronic pain, seizures, and a variety of other health issues. Today, the brand has scaled their production efforts using the same beloved strain that has helped so many.
30 Day Cookie Length – Conversions happening within a  within a 30-day window ensures you will get credit for the sale.
15% Commission – Promoting the Charlotte's Web affiliate offer earns a 15% revenue share on the order total.
10% Off Coupon Initiative – Charlotte's Web affiliates use a 10% coupon to incentivize their traffic, can double conversion.
Charlotte's Web is known for their meticulous testing protocols and phytocannabinoid-rich CBD oil packed with an impressive phytochemical profile and trusted by thousands who rely on cannabidiol for their health regimens. The team is often called the 'Robin Hoods of cannabis' for their charity and revolutionary spirit, and we can't think of a CBD vendor with a better reputation for integrity and quality.
How to Make Money Promoting Charlotte's Web

Charlotte's Web has a relatively unparalleled level of brand recognition within the CBD world and beyond — many non-CBD consumers have heard their unique name and their captivating story. This company's reputation for high-quality, consistent cannabis products is off the charts. Charlotte's Web is expanding and their sales are booming, making us justifiably confident in offering them a place in the RevOffers network.